---
Diminutive in size but not in spirit (or population density), Nova Scotia is one of Canada's proudest Maritime provinces.
Home to puffins, seals and whales, Nova Scotia's chocked full of wildlife, too. And waterfront capital Halifax is perfectly situated to see a lot of it. Incidentally, just under half of the province's population call this city home.
Of course, Nova Scotians are not just in touch with nature, but technology as well. Especially mobile. Fortunately, they can count on generally good coverage from Canada's leading carriers.
Read on to learn more about the best cell phone coverage in Nova Scotia and where to find it.
Coverage in Nova Scotia At-a-Glance
Coverage in Nova Scotia is quite strong overall, earning a score of 80 out of 100.
What we love
Telus and Bell both provide amazing coverage throughout Nova Scotia
Rogers is not far off, also providing decent coverage to Nova Scotians
What could be improved
Freedom Mobile is absent from the province
Coverage most challenging along unpopulated shoreline areas
Carrier Network Coverage in Nova Scotia
---
Three of the four top providers in Canada provide excellent coverage to Nova Scotia. Freedom, however, is absent from the equation.
Best Coverage in Nova Scotia, Canada by Network
| Network | Covered Area % |
| --- | --- |
| Bell | 90.26% |
| Rogers | 70.93% |
| Freedom | 0.00% |
| Telus | 90.26% |
Cell Phone Coverage in Nova Scotia by Area
---
The Nova Scotia of Canada encompasses 21,509 square miles, with Bell and Telus covering the most of it:
Geographic Area Covered in Nova Scotia, Canada per mi2
Nova Scotia is covered by both 3G and 4G LTE technology. 3G is the network that some older phones run on, and the one newer 4G LTE-capable devices fall back to when unable to reach a primary network. Here's how much territory the top carriers cover:
Coverage in Nova Scotia, Canada (21,509 m2) by 3G/4G LTE
| | Bell | Rogers | Freedom | Telus |
| --- | --- | --- | --- | --- |
| 3G | 19,415 | 15,256 | 0 | 19,415 |
| 4G LTE | 18,551 | 11,090 | 0 | 18,551 |
Nova Scotia Network Coverage Maps
---
Numbers on a page are one thing, but the coverage maps tell the full story. Fortunately, you don't have to go to all of the carriers' websites to get this information--you can see what the coverage is like from the four majors below:
---
The maps confirm that Telus and Bell provide the most robust coverage in Nova Scotia.
Big Carriers vs. Small Carriers in Nova Scotia
There is some good news for those looking to save a buck or two. Because three of the top carriers provide service in Nova Scotia, this means that there are smaller carriers that run off of their network. These carriers are called MVNOs for short. MVNOs purchase network service from the top carriers at wholesale prices. For Nova Scotians looking to save, we think it's super easy... don't pay more for the same network coverage when you can get a plan for half the price.
If you're interested in the coverage from Telus, we suggest looking at the carrier who run off of their network such as PC Mobile, Koodo, Public Mobile, and PhoneBox.
Getting the Best Plan & Coverage
Here at Whistleout, we take accuracy seriously. We've have just launched our coverage check feature which is perfect to find out what type of coverage you can get at in Nova Scotia. Finding out coverage at your home is easy, simply enter in your address, run the search, view your local coverage, then compare all the plans from carriers who support your address.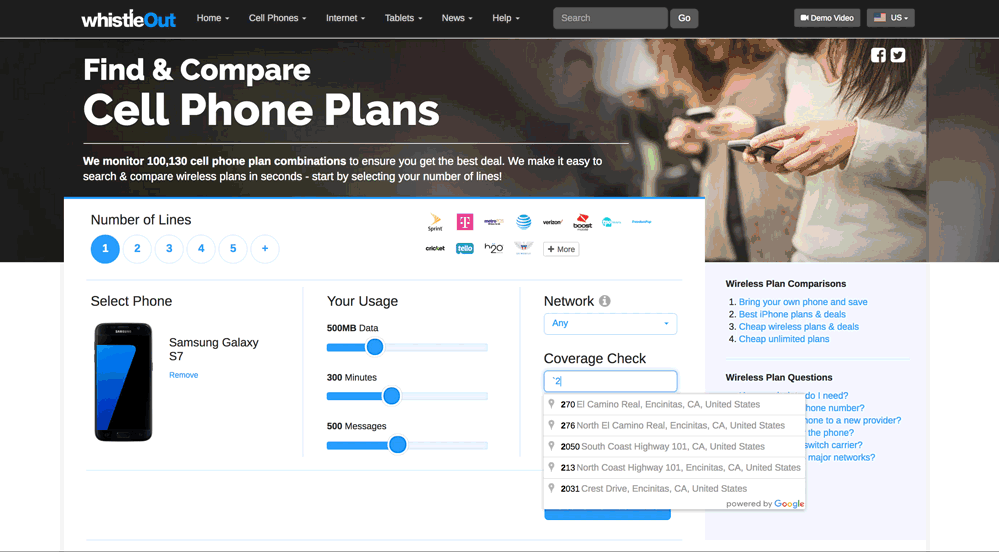 Checking coverage at an address in Encinitas across Sprint, T-Mobile, Verizon and ATT networks
Need a certain amount of minutes, text or data? Use our filter options to set specific requirements to ensure you have the cell phone plan that's right for you.
---