---
If you're living in the amazingly remote Northwestern Territories, your daily challenges are undoubtedly a lot different than most of ours--traffic and noise are likely not among them.
Totally wild and unspoiled, the NW Territories are home to only 41,786 residents. With such a small population and such an untamed landscape, it's perhaps not surprising that cell phone coverage is not the best in the province.
This is changing though as carriers work to install cellular towers farther and farther north. Check out the coverage map of the Northwest Territories below and read on to learn more about coverage in the region. If you're living in the wild north, you need a carrier that's got you're back, even in the harshest of conditions.
Coverage in Northwest Territories At-a-Glance
Coverage in Northwest Territories is scant, earning a score of 1 out of 100.
What we love
Telus and Bell give you the best chance for coverage in the province
Coverage best in and around Yellowknife
What could be improved
Rogers and Freedom networks absent from the NW Territories
Carrier Network Coverage in Northwest Territories
---
Getting any cell phone coverage in the NW Territories is a challenge, but Telus and Bell give you the best chance.
Best Coverage in Northwest Territories, Canada by Network
| Network | Covered Area % |
| --- | --- |
| Bell | 3.38% |
| Rogers | 0.00% |
| Freedom | 0.00% |
| Telus | 3.38% |
Cell Phone Coverage in Northwest Territories by Area
---
The Northwest Territories of Canada encompasses 522,238 square miles, and Bell and Telus are the only carriers that provide any coverage to it:
Geographic Area Covered in Northwest Territories, Canada per mi2
Northwest Territories is covered by both 3G and 4G LTE technology. 3G is the network that some older phones run on, and the one newer 4G LTE-capable devices fall back to when unable to reach a primary network. Here's how much territory the top carriers cover:
Coverage in Northwest Territories, Canada (157,233 m2) by 3G/4G LTE
| | Bell | Rogers | Freedom | Telus |
| --- | --- | --- | --- | --- |
| 3G | 17,661 | 0 | 0 | 17,661 |
| 4G LTE | 11,088 | 0 | 0 | 11,088 |
Northwest Territories Network Coverage Maps
---
Numbers on a page are one thing, but the coverage maps tell the full story. Fortunately, you don't have to go to all of the carriers' websites to get this information--you can see what the coverage is like from the four majors below:
---
The maps confirm that Telus and Bell provide the most robust coverage to the NWT.
Big Carriers vs. Small Carriers in Northwest Territories
So now that you've seen there is a bit of coverage in Northwest Territories, getting the best plan is the next step. There are several carriers that run off of the back of the main four carrier and they generally offer rates significantly lower monthly rates than the top four carriers. These carriers are called MVNOs for short or Mobile Virtual Network Operators in full. Essentially, MVNOs purchase network service from the major providers at wholesale prices, then pass the savings on to consumers.
If you're interested in using Telus or Bell, you can switch to carriers that use their service but offer cheaper rates. For example, if you were hoping to use Bell Mobile, you should also look into Virgin Mobile. If you were hoping to use Telus, you might consider checking out PC Mobile, Koodo, Public Mobile, and PhoneBox as they all run off of the Telus network.
Getting the Best Plan & Coverage
Our new coverage check allows you to enter in your address, check availability, and find the perfect plan. We make buying easy.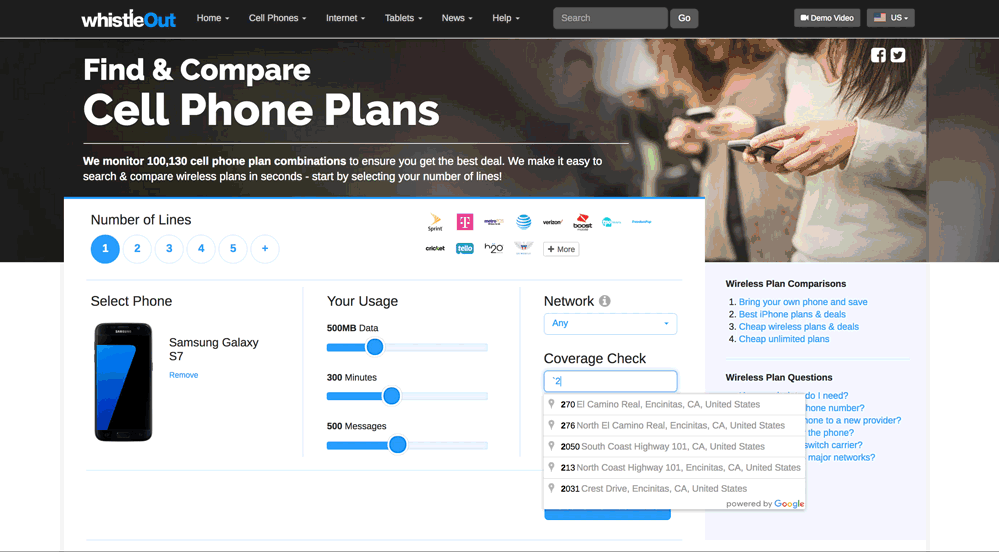 Checking coverage at an address in Encinitas across Sprint, T-Mobile, Verizon and ATT networks
In addition, once you run your search, you can use our filtering options to narrow down the results.
---