---
Alberta much to offer it's citizens--scenic landscapes, glorious mountain ranges, diverse wildlife and, fortunately, pretty good cell phone coverage.
That said, the reception you receive (or not) will depend largely where you are in the province, especially whether you're in a metropolitan region. That's where our animated coverage map comes in.
Read on to learn more about the best cell phone coverage in Alberta, and where to find it.
Coverage in Alberta Canada
Coverage in Alberta earns a respectable coverage score of 45 out of 100. Expect the best coverage in and around cities and towns. Here's a guide to coverage in Calgary and Edmonton.
What we love
Coverage from Telus and Bell is strong
Coverage from Rogers decent as well
What could be improved
Freedom barely shows up to the party
Coverage always a bit tricky in deep valleys or remote natural areas
Carrier Network Coverage in Alberta
---
The top four major carriers are represented throughout Alberta, as are a multitude of smaller carriers that run on their networks.
Telus, Bell and Rogers generally provide the best coverage in Alberta, while Bell and Freedom barely register.
Best Coverage in Alberta, Canada by Network
| Network | Covered Area % |
| --- | --- |
| Bell | 70.05% |
| Rogers | 60.79% |
| Freedom | 0.59% |
| Telus | 70.05% |
Cell Phone Coverage in Alberta, Canada by Area
---
The Alberta Province of Canada encompasses 257,312.96 square miles, and the most robust carriers, Rogers, Bell and Telus, cover a good majority of it:
Geographic Area Covered in Alberta Canada per mi2
Alberta is covered by both 3G and 4G LTE technology. 3G is the network that some older phones run on, and the one newer 4G LTE-capable devices fall back to when unable to reach a primary network. Here's how much territory the top carriers cover:
Coverage in Alberta, Canada (257,312.96 m2) by 3G/4G LTE
| | Bell | Rogers | Freedom | Telus |
| --- | --- | --- | --- | --- |
| 3G | 180,258 | 156,429 | 1,509 | 180,258 |
| 4G LTE | 157,840 | 148,081 | 559 | 157,840 |
Alberta Network Coverage Maps
---
Numbers on a page are one thing, but the coverage maps tell the full story. Fortunately, you don't have to go to all of the carriers' websites to get this information--you can see what the coverage is like from the four majors below:
---
The map clearly shows that Telus and Bell lead the way when it comes to coverage, with Rogers following closely behind. Unfortunately, Freedom doesn't provide service in Alberta.
Big Carriers vs. Small Carriers in Alberta
Just a reminder, the top providers in Alberta also have smaller carriers that piggyback off of their network. These carriers, known as MVNOs, are typically much cheaper than the network they run off of. If you're looking to save a buck or two, it might be worth checking into anMVNO. MVNOs purchase network service from the major providers at wholesale prices, then pass the savings on to consumers.
If you're interested in the Telus network but are looking for a better deal, you should check out PC Mobile, Koodo, Public Mobile, and PhoneBox. These carriers all run off of the Telus network but have rates at a lower cost.
Getting the Best Plan & Coverage
WhistleOut's new coverage check feature give customers an idea of what coverage is like at your location. Checking your coverage is easy, simply enter in your address and we'll show you what the coverage looks like for you. From there, you'll have the knowledge to select a plan you know will give you the best coverage for your home.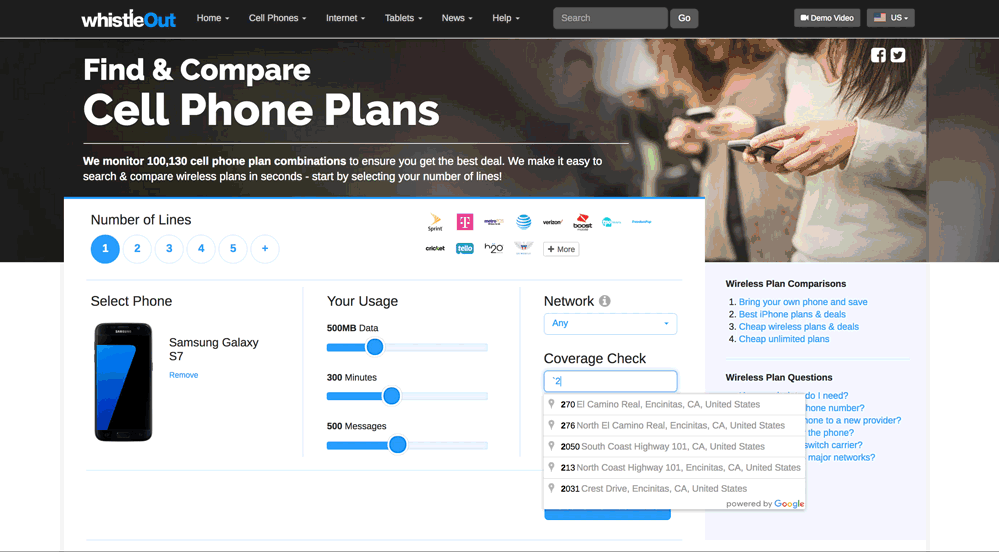 Checking coverage at an address in Encinitas across Sprint, T-Mobile, Verizon and ATT networks
Now that you've got the coverage map at your hands, getting the right cell phone plan has never been this easy. Get off that lousy plan and get hooked up today!
---